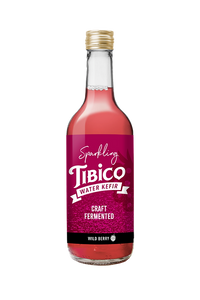 Handmade by Tibico Fragmentary. 
Experience the essence of fruit without the sugary aftermath!
Our exceptional creation is crafted from a blend of locally sourced Strawberries, Raspberries, Blackcurrants, and Blackberries. This delightful, gently effervescent elixir bursts with rich fruit flavors. It's a crisp, delectable, and invigorating probiotic beverage, brimming with essential elements that bolster your gut health and overall well-being.
We take pride in obtaining all our fruits from Herefordshire Fruit Farms, supporting local agriculture and sustainability.
At Tibico, our products are the result of natural fermentation processes, completely devoid of sugar, sweeteners, flavorings, infusions, or additives.
Our unwavering commitment to quality, sustainability, and mouthwatering taste defines our company's culture and ethics. We constantly strive to deliver the finest in fermented food products.
🌱 Plant-Based ✨ Sparkling 🌱 Hydroponically Grown LEAF-Certified Herefordshire Fruits 💯 Raw 🦠 Billions of Live Cultures to Rebalance and Nourish Your Gut Microbiome 🚫 No Added Sugar 🚫 No Artificial Sweeteners or Flavorings 🌾 Gluten-Free 🥛 Dairy-Free 🌱 Vegan
Our meticulous craft fermentation process, spanning over 10 days, ensures each bottle is teeming with billions of live cultures, antioxidants, digestive enzymes, pre-digested nutrients, amino acids, vitamins, and minerals that your body craves!
Our unique anaerobic fermentation method eliminates natural sugars, giving rise to billions of gut-friendly Lactobacillus and Bifidobacterium strains. These strains are renowned for their ability to support and restore gut health (your microbiome). A healthy microbiome facilitates digestion, fortifies the immune system, aids in managing body weight and sugar cravings, reduces body inflammation, promotes hormonal balance, and contributes to your general well-being.
But hey, many simply savor it for its one-of-a-kind, sugar-free taste!
Tibico collaborates with countless individuals grappling with various gut health issues and hormonal imbalances, such as IBS, diverticulitis, acid reflux, menopause, PTSD, diarrhea, and constipation. The benefits of Tibico's water kefirs and krauts have played a pivotal role in enhancing and revitalizing their gut health.
Rich in vitamins, fiber, and notably high levels of antioxidants called polyphenols, Tibico's offerings are sodium-free, fat-free, cholesterol-free, and low in calories.