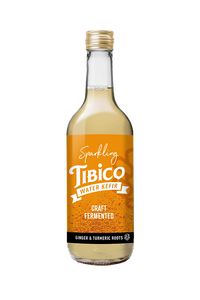 Handmade by Tibico Fragmentary.
Curious about the contents of our Tibico Ginger & Turmeric Root ferment? It's a simple duo: JUST GINGER & TURMERIC ROOTS!
Our most popular offering, Tibico Ginger and Turmeric, is lightly effervescent, carries a delightful kick of spice, and offers a crisp, delicious, and refreshing experience. It's rich in potent probiotics and antioxidants, designed to champion your gut health and overall well-being.
Tibico is a distinctive probiotic fruit beverage, handcrafted from whole fruits and aromatic spices.
In keeping with our principles, every Tibico product undergoes natural fermentation, completely devoid of sugar, sweeteners, flavorings, infusions, or additives.
Ginger and turmeric have a longstanding history of addressing ailments like colds, coughs, and bodily discomfort. They boast powerful antioxidants and a wealth of beneficial phytochemicals, renowned for their ability to enhance digestion, alleviate digestive issues, and tap into the potential of curcumin—an active compound with anti-inflammatory and anticancer properties.
At the heart of our ethos lies an unwavering dedication to quality, sustainability, and a palate-pleasing taste. We are driven by the goal of delivering the finest in fermented food products.
🌱 Plant-Based ✨ Sparkling 🌱 Hydroponically Grown LEAF-Certified Herefordshire Fruits 💯 Raw 🦠 Billions of Live Cultures to Rebalance and Nourish Your Gut Microbiome 🚫 No Added Sugar 🚫 No Artificial Sweeteners or Flavorings 🌾 Gluten-Free 🥛 Dairy-Free 🌱 Vegan
Our meticulous craft fermentation process spans over 10 days, ensuring each bottle brims with billions of live cultures, antioxidants, digestive enzymes, pre-digested nutrients, amino acids, vitamins, and minerals—exactly what your body craves!
Our unique anaerobic fermentation method, devoid of oxygen, eliminates natural sugars, giving rise to billions of gut-friendly strains of Lactobacillus and Bifidobacterium. These champions are celebrated for their role in nurturing and rebalancing your gut health (your microbiome). A thriving microbiome enhances digestion, bolsters the immune system, helps manage weight and sugar cravings, reduces inflammation, maintains hormonal equilibrium, and contributes to your overall well-being.
But you know what? Many people enjoy it simply for its exceptional, sugar-free flavor!
Tibico has been making a difference in the lives of hundreds of customers contending with various gut health issues and hormonal imbalances, including IBS, diverticulitis, acid reflux, menopause, PTSD, diarrhea, and constipation. The transformative benefits of Tibico's water kefirs and krauts have played a pivotal role in enhancing and restoring their gut health.
Bringing you an abundance of vitamins, fiber, and notably high levels of antioxidants, recognized as polyphenols, our offerings are sodium-free, fat-free, cholesterol-free, and calorie-conscious.