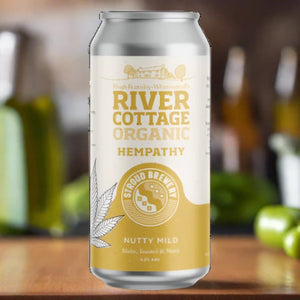 Founded in 2006, Stroud Brewery began as a passion project for our adventurous and environmentally conscious founder, Greg Pilley. A true beer enthusiast, Greg's mission was straightforward: to craft exceptional-tasting beers for the local community while embodying the positive change he envisioned in the business world.
Fast forward to today, and Stroud Brewery stands as a flourishing enterprise. Our tap room, now a beloved local landmark in Stroud, has evolved into a vibrant social hub. We take pride in producing not only great-tasting but also ethical and organic beers. At Stroud Brewery, we don't just brew beverages; we create inviting and enjoyable spaces for our community to come together.
"We incorporate UK-grown organic hemp flour to infuse this beer with a distinctive earthy nuttiness.
Enjoy the Nutty, Toasted, and Malty Notes of this Mild Ale.
The nutty flavor of hemp seeds brings a unique and delightful character to our beer. As a close relative of hops, hemp was destined to create a brilliant brew." - Hugh Fearnley-Whittingstall
We take pride in our collaboration with Hugh and the River Cottage team, using our organic beer to ignite positive change.
Ingredients:
Pure Water
Organic Barley Malt
Organic Wheat Malt
Organic Hemp Flour
Organic Hops
Yeast
Allergens: Contains Gluten from the sources highlighted.
Suitable for Vegans and Vegetarians.