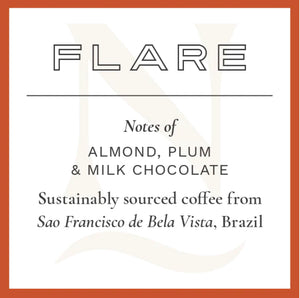 Handmade by Noni's Coffee Roastery. 

Introducing Noni Coffee Roasters' Flare - a harmonious blend of flavors sourced sustainably from the picturesque hills of São Francisco de Bela Vista, Brazil. This exquisite coffee boasts enchanting notes of almond, plum, and milk chocolate, creating a symphony of taste that dances across your palate.
Crafted with care and respect for the environment, our Flare coffee is more than just a beverage; it's an experience. Sourced from the lush landscapes of Brazil, where the sun-kissed fields yield some of the world's finest coffee beans, this blend captures the essence of its origin. Overlooking the undulating hills of São Francisco de Bela Vista, our coffee beans are cultivated with dedication and a commitment to sustainable practices.
While this coffee is delightful in its purest form, its true potential unfolds when paired with milk. The interaction between the rich, smooth coffee and the creamy milk creates an indulgent harmony that elevates your coffee moments to new heights of pleasure.
Did you know that Brazil produces almost 40% of the world's total coffee output? That's a staggering 3.7 million metric tons annually, and Flare proudly carries the legacy of this coffee giant. Our Flare blend features the renowned Yellow Catuaí Pulped Natural beans, a classic representation of Brazil's coffee excellence. These beans are a testament to the passion and expertise of Tarcízio Aldo Zugliani, the visionary behind this farm. His ownership since 1993 has ushered in remarkable improvements, while his dedication to nurturing small trees ensures the farm's future vitality and productivity.
Flare is more than just a coffee; it's a journey to the heart of Brazil's coffee heritage. With its enticing flavors and a story woven with care and responsibility, this blend encapsulates the essence of São Francisco de Bela Vista and the spirit of sustainable coffee sourcing. Indulge in the deliciously classic taste of Brazil – take a sip of Flare and ignite your senses with its warm embrace.
Noni's Coffee Roastery is based in Brismcombe, Stroud. 

Noni's Coffee Roastery was founded by Noni Morrison. 

Noni's Coffee Roastery plan to be a CIC (community interest company) by December 2022. 


Noni's Coffee Roastery work closely with small scale coffee farmers, and buy coffee from imports who protect and support communities. 


Noni's Coffee Roastery use beans from carbon neutral farms and CIC projects. 
Notes of Almond, Plum and Milk Chocolate.