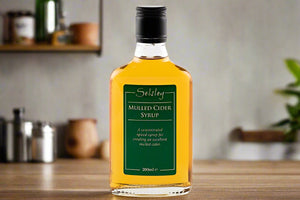 Made by Selsey Foods. 
Ingredients: Sugar, water, cinnamon quill, natural colour, citric acid, extract of spices.
Introducing the latest addition to our beloved mulling syrup collection, thoughtfully crafted with cider enthusiasts in mind.
This non-alcoholic syrup features a unique blend of spices carefully tailored to complement the rich flavors of cider and apple juice.
Just like our original mulling syrup, this versatile elixir extends beyond beverage enhancement. It can be used to infuse an array of culinary delights, such as pork dishes, fruit pies, and crumbles, allowing you to elevate your cooking with a touch of exceptional flavour.