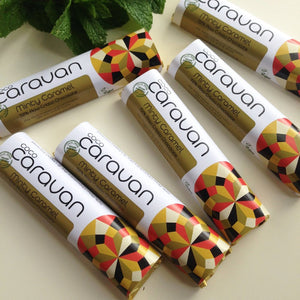 Introducing the delectable Coco Caravan Vegan Chocolate Minty Caramel Bar, a divine treat that combines rich, velvety chocolate with a refreshing hint of mint and a luscious caramel center. Crafted with care and using only the finest plant-based ingredients, this 45g chocolate bar is a delightful indulgence for chocolate lovers with a penchant for minty goodness.
Savor the exquisite taste and texture of this vegan chocolate bar. Each bite unveils a harmonious blend of smooth, melt-in-your-mouth chocolate, a burst of cool mint, and a sumptuous caramel filling. The velvety chocolate shell enrobes the tantalizing combination, creating a truly decadent and satisfying treat.
Coco Caravan takes pride in creating delicious vegan chocolates that cater to the discerning taste buds of chocolate enthusiasts. Made with high-quality, ethically sourced ingredients, this chocolate bar is free from dairy, gluten, and refined sugars, allowing you to indulge guilt-free. It's a perfect choice for vegans, those with dietary restrictions, or anyone seeking a healthier alternative to traditional chocolates.
The Minty Caramel Bar is not only a delight for your taste buds but also a visual feast for the eyes. Encased in an elegant and environmentally friendly packaging, it makes for an ideal gift for birthdays, special occasions, or simply as a treat for yourself. Share the joy of this delectable chocolate bar with friends and loved ones, or savor it as a personal indulgence during moments of relaxation and self-care.
With its convenient size, the Coco Caravan Vegan Chocolate Minty Caramel Bar is perfect for on-the-go snacking, satisfying your chocolate cravings anytime, anywhere. Whether you enjoy it as a midday pick-me-up, an after-dinner delight, or a sweet surprise in your lunchbox, this chocolate bar is a delightful companion throughout the day.
Indulge your senses with the Coco Caravan Vegan Chocolate Minty Caramel Bar. Experience the blissful combination of velvety chocolate, refreshing mint, and luscious caramel in every bite. Treat yourself to this guilt-free indulgence or share it with others who appreciate the finest flavors in a vegan-friendly package. Order your 45g bar today and embark on a delightful chocolate experience that will leave you craving for more.
Handmade by Coco Caravan. 
This product is vegan friendly. Allergens cashew nut paste
Ingredients: raw cacao butter, coconut blossom nectar, raw cacao powder, raw ground vanilla pod and organic peppermint oil (<2%). Caramel, coconut nectar sugar, cashew nut paste, virgin coconut oil and coconut cream. (cocoa solids 72% minimum.
Coco Caravan was stared in 2013 by Jacques Cop.
Jacques worked for 10 years previously as an ecologist.
Patricia Brien is the creative director is Coco Caravan. Patricia designed the Mandala for the logo and is the aesthetic drive of the brand. Patricia's background is in research, fashion, art, media, writing and was an educator in Australian, Dutch and British universities for many years.
Coco Caravan are passionate about making chocolate that has a focus around ethical production and sustainability.
Coco Caravan specialise in vegan and organic chocolate that is not only good for you but is delicious and award winning.
Coco Caravan use no additives or preservatives in their chocolate.
Coco Caravan only use Fair trade or Direct trade Cacao to make their chocolate.
Coco Caravan never use plastic in their packaging.
Coco Caravan always hand make their chocolate in small batches.
Coco Caravan are based in Stroud, Gloucestershire.