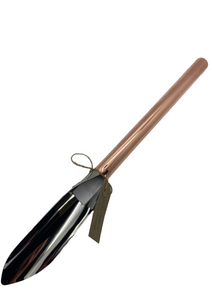 Handmade luxury trowel made in Stroud.
Handmade by Target Aviation in the Cotswolds by George from copper and stainless steel. This is a firm favourite with gardeners at all levels and a perfect gift. 

Uncle Peter's Trowel was recommend by Kate Humble of contryfile in her book "A year of living simply: The joys of a less complicate life"
Now trading as Heirloom Trowels and handmade by Roger Targett in his shed.  

If you are gifting this wonderful trowel we can hand write a note on a Made in Stroud gift tag at not extra cost. 

Introducing Uncle Peter's 16-inch Long Handled Trowel – The Perfect Gardening Tool for Enhanced Reach and Efficiency!
Uncle Peter's 16-inch Long Handled Trowel is a must-have tool for every gardener seeking optimal reach and performance. Designed with precision and durability in mind, this exceptional trowel is built to make your gardening tasks easier and more efficient.
Crafted with a keen attention to detail, this long-handled trowel features a sturdy stainless steel blade that effortlessly cuts through soil, making it perfect for digging, planting, and cultivating. Its 16-inch length provides extended reach, allowing you to access plants in larger flower beds, vegetable patches, or raised gardens with ease.
The ergonomic design of Uncle Peter's Long Handled Trowel ensures a comfortable grip, reducing strain on your back and knees. The long handle provides the leverage needed for efficient digging and lifting, making your gardening tasks less strenuous and more enjoyable.
With its durable construction, Uncle Peter's Long Handled Trowel is built to withstand the demands of regular use. It's a reliable companion that will serve you for years to come, helping you create and maintain beautiful gardens season after season.
The simplicity of Uncle Peter's Long Handled Trowel makes it versatile and suitable for various gardening tasks. Whether you're planting flowers, herbs, or vegetables, or simply maintaining your garden beds, this trowel is up to the challenge. It's a tool that empowers you to work with precision and efficiency, achieving the desired results in your garden.
Invest in Uncle Peter's 16-inch Long Handled Trowel and experience the difference that enhanced reach and durability can make in your gardening routine. This reliable tool will become an essential part of your gardening arsenal, helping you achieve beautiful and thriving gardens. Order yours today and elevate your gardening experience to new heights of efficiency and success.