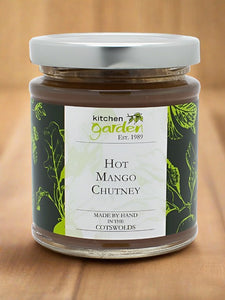 Handmade by Kitchen Garden Foods.
Kitchen Garden Foods was started by Barbara Moinet in 1989.
Kitchen Garden Foods only supply small independent shops and never supermarkets.
Today Kitchen Garden Foods is run by James Moinet and James Horwood.
Kitchen Garden Foods use family recipes, and small batch production, the highest quality ingredients.
Kitchen Garden Foods have an exemplary record for food hygiene and customer service.
Introducing Kitchen Garden Foods Hot Mango Chutney - a fiery and flavorful condiment that will add a burst of exotic taste to your meals.
Kitchen Garden Foods hot mango chutney is made from the freshest, hand-picked mangoes, expertly blended with a mix of spices and chilies to create a rich and complex flavor that is sweet, spicy, and tangy all at once. The natural sweetness of the mangoes is balanced perfectly with the heat of the chilies, creating a delicious and bold taste that will liven up any dish.
Crafted using traditional methods, our hot mango chutney is free from any artificial preservatives or additives, ensuring a pure and natural taste. It is also vegan-friendly, making it an ideal choice for plant-based diets.
Packaged in a stylish jar, Kitchen Garden Foods Hot Mango Chutney adds a touch of sophistication to any kitchen and is an excellent gift for foodies or anyone looking to add a twist to their meals. It is perfect as a condiment for Indian dishes such as curries and samosas, or as a topping for burgers and sandwiches. You can also use it as a marinade for meats and vegetables or as a dip for snacks.
Whether you're a fan of spicy flavors or looking for a unique addition to your pantry, Kitchen Garden Foods Hot Mango Chutney is the perfect choice. Try it today and experience the bold and exotic taste that only Kitchen Garden Foods can deliver.