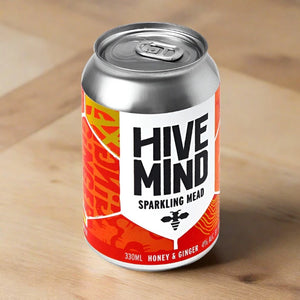 Handmade by Hive Mind formerly Wye Valley Meadery .
Introducing Hive Mind Honey and Ginger Mead - a delicious and warming drink with a spicy kick. Handcrafted in the heart of the Wye Valley, this mead is perfect for those who love a little heat in their drink.
This mead is made using only the finest locally sourced honey, combined with the perfect amount of ginger to create a warm and spicy drink. The honey used to make this mead is raw and unpasteurized, which means that all of the natural flavours and aromas are preserved.
Hive Mind takes pride in their artisanal process, using only the freshest and highest quality ingredients. The ginger used to make this mead is freshly grated and infused into the honey, giving it a deliciously bold and aromatic flavour.
Whether you are a fan of mead or are looking to try something new, Hive Mind Honey and Ginger Mead is the perfect drink to enjoy on a cool evening. Serve it slightly warmed for the perfect taste experience.
Overall, Hive Mind Honey and Ginger Mead is a delicious and unique drink that is perfect for any occasion. Get yours today and taste the difference of a true artisanal mead.