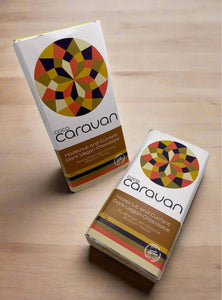 Handmade by Coco Caravan. 
Introducing Coco Caravan Hazelnut and Currant Dark Vegan Chocolate Bar, a delightful combination of rich dark chocolate, crunchy hazelnuts, and tangy currants. Crafted with meticulous attention to detail, this indulgent treat offers a harmonious blend of flavors and textures that will satisfy your cravings.

Coco Caravan Hazelnut and Currant Dark Vegan Chocolate Bar begins with premium quality dark chocolate, carefully selected for its deep cocoa flavor and smoothness. Tantalizing pieces of roasted hazelnuts are generously scattered throughout, providing a satisfying crunch with every bite. Tangy currants add a burst of fruity sweetness, perfectly complementing the richness of the chocolate.
Indulge in the delectable combination of smooth dark chocolate, nutty hazelnuts, and tangy currants. The contrasting flavors and textures create a symphony of taste sensations that will leave you wanting more. With a 77g bar size, it offers the perfect portion to enjoy on your own or share with friends and family.
Crafted with vegan-friendly ingredients, Coco Caravan Hazelnut and Currant Dark Vegan Chocolate Bar is suitable for those following a plant-based lifestyle. It is free from dairy, making it a guilt-free indulgence that can be enjoyed by chocolate lovers of all preferences.
The elegant packaging reflects the sophistication of this exceptional chocolate bar, making it an ideal gift for special occasions or a delightful treat for yourself. Each bar is meticulously crafted, ensuring the highest quality and an unforgettable taste experience.
Experience the irresistible flavors of Coco Caravan Hazelnut and Currant Dark Vegan Chocolate Bar. Immerse yourself in the velvety smoothness of dark chocolate, the satisfying crunch of hazelnuts, and the burst of tangy currants. Treat yourself or someone special to the indulgence of Coco Caravan, where passion and quality meet in every bite.
Handmade by Coco Caravan
This product is vegan friendly. Allergens hazelnuts.
Ingredients: Cacao butter, cacao powder (cocoa solids 72% minimum), coconut blossom nectar, slow roasted hazelnuts (11%), dried black currants (11%).
Coco Caravan was stared in 2013 by Jacques Cop.
Jacques worked for 10 years previously as an ecologist.
Patricia Brien is the creative director is Coco Caravan. Patricia designed the Mandala for the logo and is the aesthetic drive of the brand. Patricia's background is in research, fashion, art, media, writing and was an educator in Australian, Dutch and British universities for many years.
Coco Caravan are passionate about making chocolate that has a focus around ethical production and sustainability.
Coco Caravan specialise in vegan and organic chocolate that is not only good for you but is delicious and award winning.
Coco Caravan use no additives or preservatives in their chocolate.
Coco Caravan only use Fair trade or Direct trade Cacao to make their chocolate.
Coco Caravan never use plastic in their packaging.
Coco Caravan always hand make their chocolate in small batches.
Coco Caravan are based in Stroud, Gloucestershire.