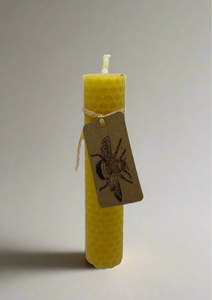 Introducing our Hand-Rolled Beeswax Candle: Natural Elegance in a Compact Size.
Experience the enchanting glow of our Hand-Rolled Beeswax Candle. Crafted from pure beeswax, this exquisite candle brings a touch of natural elegance to any space.
Key Features:
Compact Size: Measuring 12.8cm in height and 2.6cm in diameter, our Hand-Rolled Beeswax Candle offers a perfect fit for smaller candle holders and spaces.
Warm Illumination: Enjoy the gentle and inviting glow that radiates from this natural beeswax candle, creating a cozy atmosphere wherever it's placed.
Artisanal Craftsmanship: Each candle is meticulously hand-rolled with care, ensuring a unique and high-quality product that showcases the craftsmanship of our artisans.
Sustainable Choice: Made from renewable beeswax, our candles offer a clean-burning and eco-friendly option that aligns with your commitment to the environment.
Versatile Decor: Whether you're decorating for a special occasion, enhancing your home decor, or seeking a natural and toxin-free candle option, our Hand-Rolled Beeswax Candle is a versatile choice.
Experience the beauty of our Hand-Rolled Beeswax Candle, designed with natural elegance and crafted with care. Illuminate your space with its warm glow and enjoy the serene ambiance it brings. Order yours today and embrace the enchantment of this compact and eco-friendly candle.
Handmade by Mary Formal. 


Approx dimensions 12.8cm high, 2.6cm wide.