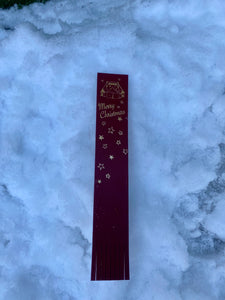 Capture the spirit of the season with the Giffords Circus Merry Christmas leather bookmark, a delightful fusion of festive cheer and timeless elegance. Crafted with meticulous attention to detail, this exquisitely designed bookmark is not just a page-holder but a keepsake, ideal for adding a touch of holiday magic to your reading experience.
Embossed with the iconic Giffords Circus emblem and the warm wishes of 'Merry Christmas,' this leather bookmark radiates charm and nostalgia, celebrating the joyous essence of the season. Its durable yet supple leather construction ensures longevity, making it a reliable companion for countless literary journeys to come.
The bookmark's design encapsulates the whimsical allure of Giffords Circus, evoking the enchanting wonder of the big top with a seasonal twist. Whether it's for your own literary escapades or as a thoughtful gift for the bookworm in your life, this festive accessory brings a touch of merriment and elegance to any reading adventure.
Perfectly sized to slip between the pages of your favorite book, this Merry Christmas leather bookmark is a cherished addition to any bibliophile's collection. Celebrate the magic of the holidays year-round with this keepsake from Giffords Circus, adding a dash of seasonal joy to every chapter turned.
Embrace the festive spirit and enchantment of Giffords Circus with this charming leather bookmark. Experience the joy of the season in every book you read, making it a treasured addition to your literary world."
This description emphasizes the craftsmanship, holiday spirit, and the whimsical charm associated with the Giffords Circus Merry Christmas leather bookmark, inviting customers to embrace the festive cheer and elegance it brings to their reading experience.