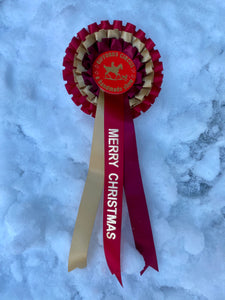 Radiate the enchantment and festive jubilance of the season with the Giffords Circus Merry Christmas rosette in stunning red and gold. A symbol of merriment and celebration, this exquisitely crafted rosette captures the magic of the holidays in a vibrant and elegant design.
The rich red and gleaming gold hues of this rosette instantly evoke a sense of warmth and joy. Adorned with intricate detailing and the nostalgic charm of Giffords Circus, it embodies the spirit of the season with its festive colors and whimsical allure.
Each carefully woven ribbon, complemented by the glint of gold accents, pays homage to the traditional rosette while infusing it with the unique flair and charisma of Giffords Circus. Its classic yet vibrant design makes it the perfect accessory to elevate any outfit, whether worn as a lapel pin, on a jacket, or as a statement piece to brighten any ensemble.
The Merry Christmas rosette becomes an emblem of seasonal festivity, perfect for adding a touch of holiday spirit to your attire or as a delightful gift, encapsulating the joy and cheer of the celebrations.
Adorn yourself or your loved ones with this enchanting red and gold rosette, a joyful accessory that captures the essence of Giffords Circus and spreads the warmth and magic of the holiday season wherever it goes."
This description emphasizes the vibrant colors, festive spirit, and the whimsical charm associated with the Giffords Circus Merry Christmas rosette in red and gold, inviting individuals to embrace and showcase the seasonal joy it embodies.