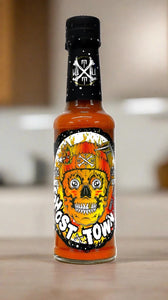 Handmade by Tubby Tom's. 
This product is vegan friendly. Allergens No Major Allergens. 
Tubby Tom's Started in the summer of 2014, when Tom made his first batch of BBQ sauce with hand drawn labels.
Tubby Tom's did their first event at barn on the farm festival selling BBQ chicken, chip butties and curries.
Tubby Tom then worked at Kitchen Garden Foods for two years making Chilli jams. Kitchen garden Food let Tubby Tom us their equipment on weekends to make his hot sauces.
The weekends Tubby Tom wasn't making hot sauce he spent selling at farmers markets, including the award winning Stroud farmers market.
Tubby Tom then got stocked by Harvey Nicks.
Tubby Tom now got to the point where he could no longer work a full time job and run his growing hot sauce company, so he quit his job and started making hot sauce in his kitchen.
Next Tubby Tom rented a space from Hetty of Hetty's Kitchen (she makes the most amazing brownies).
In 2018 Tubby Tom moved into his own unit and built a production kitchen from scratch.
2020 was a scary time for Tubby Tom but after a while his wholesale and web orders went crazy.
Tubby Tom has had to move to larger units twice to keep up with demand.
Tubby Tom now employs 6 people.
Tubby Tom is living proof that if you work hard, have a vision, and self-belief you can do well.
Introducing Tubby Tom's Ghost Town Hot Sauce - a fiery blend of fresh ingredients that will take your taste buds on a wild ride. Handmade in the UK, this sauce is not for the faint of heart.
This sauce is made with a delicious blend of plum tomatoes, cider vinegar, red peppers, sugar, water, ghost chilli peppers, onion, tomato puree, olive oil, garlic, salt, spices, and xanthan gum. The combination of ingredients creates a perfect balance of heat and flavour, with the ghost chilli peppers adding a serious kick of heat.
Ghost Town Hot Sauce is incredibly versatile and can be used in a variety of ways. Add it to your favourite dishes, such as eggs, sandwiches, pizza, and meats, for an added burst of flavour and heat. It's also great for those who are following a vegan or vegetarian diet, as the sauce is free from animal products.
Tubby Tom's takes pride in using only the freshest and highest quality ingredients, and Ghost Town Hot Sauce is no exception. The sauce is free from artificial colours and preservatives, making it a healthier alternative to other hot sauces on the market.
Overall, Tubby Tom's Ghost Town Hot Sauce is a bold and flavourful addition to any meal, perfect for those who love it hot! Get yours today and add a little heat to your life.