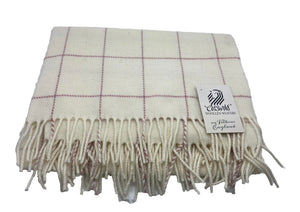 Cotswold Woollen Weavers has been in Filkins designing and making fine woollen cloth since 1982.
Cotswold Woollen Weavers live and breathe the wool heritage that made the English Cotswolds, and draw our inspiration from the soft colours of the Cotswold landscape all around us.
Cotswold Woollen Weavers believe that virtue lies in the tradition of doing things well, and that we can learn from those who went before us.
Cotswold Woolen Weavers also believe that innovation is good too (and also fun) so long as it is based firmly on finding ways to do good things better.
Introducing the Cotswold Woollen Weavers Softest Lambswool Baby Blanket in Pink with Cream Lines, the perfect addition to any baby's layette or nursery. Made from the finest quality lambswool, this blanket is incredibly soft, cozy, and gentle on delicate baby skin.
The classic and stylish design features cream lines on a blush pink-colored background, creating a soothing and elegant look. Measuring 80cm x 100cm, it is the ideal size for snuggling up your little one and keeping them warm and comfortable.
Crafted with meticulous attention to detail, this blanket is lightweight and breathable, making it suitable for year-round use and perfect for travel. It is also machine-washable, making it easy to care for and maintain its softness and quality over time.
Invest in a piece of luxury for your little one or give the perfect gift to a new parent with this beautiful and practical baby blanket from Cotswold Woollen Weavers. The cream color and pink lines add a touch of charm and sophistication to any nursery decor. Whether used for nap time or stroller rides, this baby blanket is sure to become a treasured item for years to come.