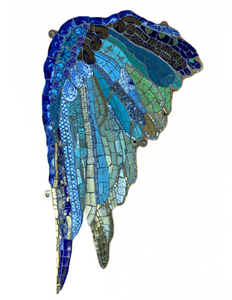 Handmade by ChinaJack Mosaics. 

ChinaJack Mosaics was founded Emily Lawlor (Bainbridge)
ChinaJack Mosaics uses vintage pottery from Vintage Mary from the Shambles market in Stroud. 

ChinaJack Mosaics is based in Kemble, Cotswolds. 
 Approx dimensions 65.5cm high 30cm wide at widest point.
 Please note these item is not suitable for outdoor location due to delicate china and adhesives used. 
Introducing the ChinaJack Mosaics "Study of a Wing" Artwork!
Elevate your decor with the mesmerizing beauty of the ChinaJack Mosaics "Study of a Wing." This captivating artwork combines the ancient art of mosaics with a contemporary design, resulting in a stunning piece that captures the grace and intricacy of nature.
The "Study of a Wing" artwork features a meticulous arrangement of meticulously handcrafted mosaic tiles, expertly capturing the delicate details and intricate patterns found in the wings of birds. Each tile is carefully selected and placed, creating a harmonious composition that showcases the artist's keen eye for balance and precision.
Measuring 65.5cm high 30cm wide at widest point, this artwork commands attention and becomes an instant focal point in any room. The intricate mosaic design and rich color palette bring depth and texture to your space, creating an immersive visual experience that ignites the imagination and sparks conversation.
Crafted with exceptional skill and attention to detail, the "Study of a Wing" artwork exemplifies ChinaJack Mosaics' commitment to exquisite craftsmanship and artistic expression. Each mosaic tile is made from high-quality materials, ensuring its longevity and preserving its beauty for years to come.
Versatile and easy to display, the "Study of a Wing" artwork is suitable for various settings, from living rooms to offices and beyond. Whether showcased on a prominent wall or featured as part of a curated art collection, this piece adds a touch of sophistication and natural elegance to any interior decor.
Perfect as a statement piece or a thoughtful gift for art enthusiasts, the ChinaJack Mosaics "Study of a Wing" artwork captures the essence of beauty and invites contemplation. It serves as a reminder of the intricate wonders of nature and the boundless possibilities of artistic expression.
Experience the enchantment of mosaic artistry and elevate your space with the captivating "Study of a Wing" artwork. Order your piece today and immerse yourself in the timeless beauty and artistic brilliance of ChinaJack Mosaics. Discover the transformative power of art and let it inspire and uplift your surroundings.