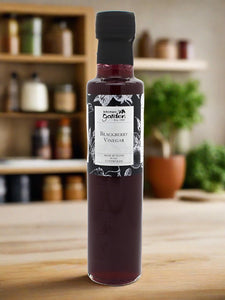 Handmade by Kitchen garden foods. Perfect for salads. 
Kitchen Garden Foods was started by Barbara Moinet in 1989.
Kitchen Garden Foods only supply small independent shops and never supermarkets.
Today Kitchen Garden Foods is run by James Moinet and James Horwood.
Kitchen Garden Foods use family recipes, and small batch production, the highest quality ingredients.
Kitchen Garden Foods have an exemplary record for food hygiene and customer service.
Introducing Kitchen Garden Food Blackberry Vinegar - a deliciously tart and tangy condiment that will elevate your culinary creations to new heights.
Kitchen Garden Foods blackberry vinegar is made from the finest, hand-picked blackberries, expertly blended with high-quality vinegar to create a unique and versatile flavor that pairs perfectly with a variety of dishes. The complex flavor profile of our vinegar is a balance of sweetness and acidity, with a subtle hint of fruitiness that will tantalize your taste buds.
Kitchen Garden Foods vinegar is crafted using traditional, artisanal methods, with no added preservatives or artificial flavors. It is also vegan-friendly, making it an ideal option for those with dietary restrictions.
Kitchen Garden Food Blackberry Vinegar comes in a stylish bottle that will add a touch of elegance to your kitchen. Its bold and fruity taste makes it a perfect ingredient for dressings, marinades, and sauces, and can even be used to add a unique twist to cocktails.
Whether you're a professional chef or a home cook, our blackberry vinegar is an essential ingredient that will enhance the flavors of your dishes and take them to the next level. Try it today and discover the difference that Kitchen Garden Food can make to your culinary creations.